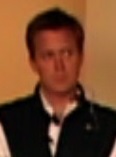 Chuck Ross is the first assistant director on On High in Blue Tomorrows.
He is played by John "Churchy" Churchill, who was the 2nd A.D. on Mulholland Drive, and a production assistant on Lost Highway and The Straight Story.
On the Stories feature, David Lynch says Churchy was born to be a great A.D. He says that Churchy used to drive him around, and he would ask Lynch to make up backstories for people they observed. Lynch says that Bucky J was born in this manner, at Churchy's instigation, while Lynch was shooting Justin Theroux from the floor up for a lighting test.
In the scene where Kingsley yells at Chuck over a lighting cue, Lynch directed Jeremy Irons to play the scene like this is "the first time in a long time" that Chuck has let him down (as seen in the Lynch 2 documentary). That scene was originally supposed to feature Freddie, but Chuck replaced him on the day of shooting, presumably due to actor unavailability.
Ad blocker interference detected!
Wikia is a free-to-use site that makes money from advertising. We have a modified experience for viewers using ad blockers

Wikia is not accessible if you've made further modifications. Remove the custom ad blocker rule(s) and the page will load as expected.