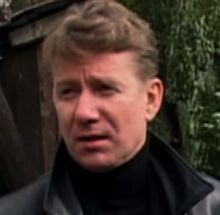 Gordy (Marek Zydowicz) is a Polish man who works for Cyrk Zalewski and seemingly is part of the plot to defeat the Phantom.
He attends a backyard party at Sue and Smithy's house along with seven other members of the circus troupe, apparently to recruit Smithy. He is wearing a captain's hat and a plaid jacket. Upon arriving, he immediately approaches Piotrek and says, "It's 3:00." Smithy, seeming perplexed, replies, "Yes, that's right. You're right on time."
Later, Gordy is staying in a trailer in the woods in Eastern Europe when Smithy and Janek arrive, looking for the Phantom. Gordy tells Smithy that the Phantom is gone, and angrily yells at him, "You're nothing! You've done nothing!" Eventually, Gordy calms down and tells Smithy that the Phantom "talked, mumbled something about Inland Empire."
Marek Zydowicz is an executive producer for the Polish portion of Inland Empire.
Ad blocker interference detected!
Wikia is a free-to-use site that makes money from advertising. We have a modified experience for viewers using ad blockers

Wikia is not accessible if you've made further modifications. Remove the custom ad blocker rule(s) and the page will load as expected.