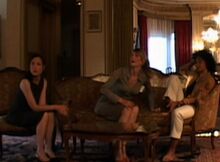 Linda (Bellina Logan) and Tracy (Amanda Foreman) are Nikki's friends. They are talking to her in her home when she receives the call that she has been cast in On High in Blue Tomorrows, and they joyously jump up and down. After Nikki's appearance on The Marilyn Levens Show, they both compliment her in the dressing room, then drop her off at home.
Bellina Logan previously played a friend of Laura Dern's character in another David Lynch film, as Beany Thorn in Wild at Heart. While her one scene in that film was deleted, her character plays a key role: it is Beany's Thunderbird that Sailor and Lula drive throughout the film. Logan has appeared in several other Lynch productions: Twin Peaks Episode 11 (as Great Northern desk clerk Louie "Birdsong" Budway), the On the Air series finale (as the Woman with No Name) and in the third season of Twin Peaks as the doctor who clears Dale Cooper to re-enter the world.
Ad blocker interference detected!
Wikia is a free-to-use site that makes money from advertising. We have a modified experience for viewers using ad blockers

Wikia is not accessible if you've made further modifications. Remove the custom ad blocker rule(s) and the page will load as expected.