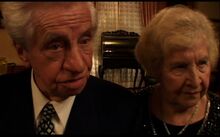 Mr. and Mrs. Zydowicz (Stanislaw Kazimierz Cybulski and Henryka Cybulski) only appear in one brief scene. They are a Polish-speaking couple who visit Nikki and Piotrek, perhaps friends of Piotrek's. Mr. Zydowicz speaks to Nikki in Polish, and she tries to explain that she does not speak Polish. Mr. Zydowicz then notes to Piotrek in Polish, "A half…" Piotrek insists that Nikki "understands more than she lets on." While Nikki does not deny this, she again insists that she doesn't speak Polish.
The characters might be named after Marek Zydowicz, who plays Gordy and was an executive producer of the Polish production of INLAND EMPIRE.
The actors who play them share the same last name, and have no other film credits listed on IMDB.
Ad blocker interference detected!
Wikia is a free-to-use site that makes money from advertising. We have a modified experience for viewers using ad blockers

Wikia is not accessible if you've made further modifications. Remove the custom ad blocker rule(s) and the page will load as expected.