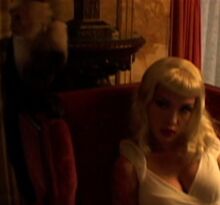 Niko (Masuimi Max) is a woman who lives in Pomona, California. A homeless woman is friends with Niko, and talks about her at length while Sue is dying. She says that Niko has a blond wig that she wears at parties, but she is on hard drugs and turning tricks now. She looks like a movie star in her blond wig, and even girls fall in love with her; but she has torn a hole in her vagina wall into her intestine. She has seen a doctor, but it is too expensive. "And now she knows her time has run out. She score a few more times, and then, like that…" the homeless woman then notes that Niko has a pet monkey that can scream like in a horror movie, and Niko doesn't care that the monkey shits everywhere. "There are those who are good with animals. Who have a way with animals."
She appears in Nikki's mansion in the end credits, along with her monkey.
Ad blocker interference detected!
Wikia is a free-to-use site that makes money from advertising. We have a modified experience for viewers using ad blockers

Wikia is not accessible if you've made further modifications. Remove the custom ad blocker rule(s) and the page will load as expected.