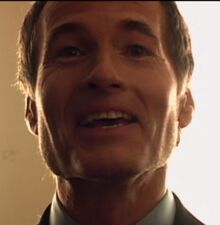 The producer of On High in Blue Tomorrows (Neil Dickson) was aware that the film was a remake and knew about the curse, but deliberately kept Kingsley, Nikki and Devon in the dark. When Devon confronts him, he insists that no one knows the reason the original film was not finished, and says the stories of the curse grew out of imagination. He manipulates Devon by telling him that giving these stories credence would "jeopardize Nikki's performance."
His office, on Stage 32 at Paramount Studios, is the site of the initial cast and crew meet-up for the film.
Like Kingsley, he has a British accent.
Neil Dickson again worked with David Lynch on Twin Peaks: The Return, playing George Bautzer (Bill Hastings's lawyer and Phyllis Hastings's lover).
Ad blocker interference detected!
Wikia is a free-to-use site that makes money from advertising. We have a modified experience for viewers using ad blockers

Wikia is not accessible if you've made further modifications. Remove the custom ad blocker rule(s) and the page will load as expected.