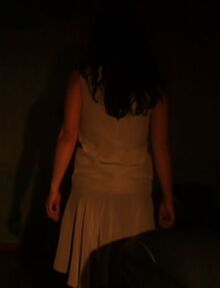 This mysterious woman committed the original murder which is recreated each time
the curse
draws in new participants. She lived in late nineteenth or early twentieth century Poland, and was married to a
man
who cheated on her with the
Lost Girl
. She was unable to bear children, which perhaps was the cause of some of their marital problems. When her husband walked out one night during a fight, she yelled after him, "I'm not who you think I am! I'll never let you have her! Never."
She later follows her husband up a staircase and stabs him with a screwdriver, killing him, and then presumably kills herself. She is seen lying dead of a stab wound.
When Sue sees into the past, the Valley Girls repeatedly ask, "Who is she?" in regards to this woman. Later, when Doris realizes that her husband had an affair with Sue, a flash of the dead "Who Is She?" woman appears, linking her to Doris.
Analysis
Edit


David Lynch seems to have made a decision not to give this character a firm identity. In the scene where she stalks her husband up a staircase, she seems to be played by Karolina Gruszka, who plays the Lost Girl. When she is seen dead, she seems to be played by Julia Ormond, who plays Doris Side, the modern-day reincarnation of the role.

A mysterious woman is also seen looking at Chelsi when the Valley Girls briefly transport to old world Poland while Doris is stalking Sue in LA. This may be the "Who Is She?" woman.
Ad blocker interference detected!
Wikia is a free-to-use site that makes money from advertising. We have a modified experience for viewers using ad blockers

Wikia is not accessible if you've made further modifications. Remove the custom ad blocker rule(s) and the page will load as expected.